This is What Happens...
When all the boys who drove muscle cars in high school grow up and have the money to buy expensive cars.
You Should Drive a Ford Shelby Mustang Cobra

You have an extreme need for speed, even when you're not in a hurry.
And while your flying by, you don't want to look like every other car on the road!
The funny thing about this is that I was just emailing with B about the 2007 concept cars today. For those of you who don't know, B is the guy I dated all through high school and for the first 2 years of college. I broke up with B to date Roundboy. But now we're friends. In high school, B drove a 1972 Camaro RS and it was be-yoo-ti-ful. I tell you - I LOVED.THAT.CAR. Anyway - are we all caught up now? Good.
So, I happened to see the
Camaro Concept Car
and emailed B to see what he thought of it. He fired back that he liked the Dodge Challenger much better. I thought he'd mistyped something because he was always a diehard Chevy guy. Then he sent me pictures. No wonder he loves it! It looks like every muscle car of the late 60s/early 70s. It sort of makes my heart go pitter patter too.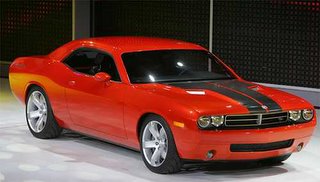 So there's something I'll bet 9 out of 10 of you didn't know about me...I have a soft spot for American cars that are nowhere close to fuel efficient but go really fast.