Santa Maria Barbeque - Amongst Other Things
Fitz-Hume
requested that I expand on my knowledge of Santa Maria Barbeque, mentioned
here
. I'll start on there, but will wander on to other highlights of the Central Coast.
First off - everyone needs to understand that Santa Maria Barbeque does not refer to meat slathered in a ketchup based sauce. There's absolutely no BBQ sauce involved - I guess the BBQ refers to the cooking process. Like the Colonel, every cook uses a secret blend of herbs and spices (predominently salt, pepper, and garlic), but most cooks a) roll the meat in the seasoning, b) marinate in a liquid form of the above, c) inject seasonings/marinade, or d) some combination of the above. If you google "Santa Maria Barbeque", various sources will tell you that steak or any other tender meat can be served this way. And it's true that places like The Hitching Post* as well as other restaurants in the area prepare steak, chicken, or pork chops in this manner, but when most people refer to Santa Maria Barbeque, they are talking about tri-tip.
Never heard of tri-tip? You're not alone, but here's a handy little
diagram
in case you're wondering what this cut is, where it comes from, etc. Once the meat is properly seasoned, it is slow cooked over fire. When I was stationed at Vandenberg AFB (just south of Santa Maria), we had these big fire pits with grills that you could raise and lower in all the parks on base. We had NCOs (Non-Commissioned Officers, for you civilian types) who
lived
for unit picnics, because they had perfected the art of barbeque. Also because it meant that they could basically hang out in the park all day, drinking beer, and "cooking." Or maybe that is the art of barbeque. From what I saw, there wasn't much active participation required once the meat was on the grill, but I never cooked it, so who am I to say. And it's understood that a SMB lunch or dinner includes grilled garlic bread, beans, salad, and salsa to go along with the meat.
Now that we've got that straight, we can go on to where to get good SMB. Hands down, the best SMB I had the entire time I was there was cooked by an NCO in my husband's unit. I only know the NCO by Desi, and Desi-Q's were famous all over the base. This is also the guy we had cater our pre-nuptial dinner, as discussed
here, in #7
. Just awesome. If you're in the Santa Maria/Lompoc area and you see Desi-Q advertised (I'm pretty sure he's still in the area) - STOP - you're guaranteed a great meal, and the prices are generally
VERY
reasonable. $5-$8 for a big plate of food. Runner up to Desi was an NCO in my own squadron - Woody. He's since gotten out and moved - I think he ended up in DC, but I could be wrong. At any rate, those are the two great ones from Vandyland. The photo below (from my pre-nup dinner) doesn't do the set-up justice, but it's the only one I have.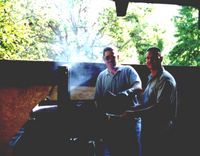 Desi-Q

You CAN find plenty of people grilling in various parking lots on Broadway (the main drag in Santa Maria) on any given Saturday. And most of it is pretty decent. But once you're off the Air Force Base, I recommend heading up to San Luis Obispo (which the locals just call SLO), because I'm a big fan of SLO.
If you're up on a Thursday night, there's plenty of good barbeque available all up and down Higuera Street (which everyone insists on pronouncing HI-Guera). Thursday nights are Farmer's Market. They block off the Higuera, and there are dozens of restaurants, fruit and vegetable farmers (most with free samples), and flower shops who set up booths along the street. There are at least 3 big Barbeque stands, and I'm almost positive all of them serve tri-tip in some form. I think
F. McClintock's
is one of them. If not - stop in their restaurant in Shell Beach - there's a tri-tip sandwich on the menu.
Mo's
, even though a chain, also has pretty decent regular BBQ, both at their street booth and in the restaurant, and they have tri-tip at the street booth. I also highly recommend the linguica from just about any of stands. Even if you're not a big red meat fan, you can still find plenty of good food at the Farmer's Market. Plus, it's fun. There are always bands playing at several of the intersections and various other street performers. The line-up changes every week.
The Central Coast was a fabulous place to live. My airmen used to complain that it wasn't very exciting, and I suppose that's true for a young single person without a car, but I never ran out of things to see and do. The towns are fairly small, but they all have personality. I used to drive up to Cal Poly in SLO to buy
cheese
from the dairy farm that's part of the Agriculture program. Arroyo Grande (local pronounciation is Grandy) is another cool little town. Be sure to stop by Klondike Pizza. It's not exactly classy - it's an eat-peanuts-while-you-wait-and-throw-the-shells-on-the-floor kind of place, but they have excellent pizza, featuring reindeer sausage. Pismo Beach features the
Splash Cafe
, who serves - hand's down - the best clam chowder I've ever tasted. Plus it probably has the nicest beach in the area - but I'll warn you - the water is cold!
And, of course, Santa Maria is one of the largest growing areas for strawberries, which means that you can either buy the strawberries at one of the many stands just off Highway 101 (I recommend the one off Betteravia), or at one of the many other Farmer's Markets in the area. Before we left the area, I put up 48 jars of strawberry preserves. And I'm sad now, because we're running low.
I'll save Santa Barbara and Santa Ynez (where most of the Central Coast wineries are) for another post, since this one is getting a bit long and unwieldy. I don't know if I covered everything Fitz-Hume hoped I would and anyway, no one said the post had to be coherent.
*If you are interested in visiting The Hitching Post, I prefer the Casmalia location over the Buellton one, although the Buellton location was recently featured in the movie "Sideways."