Tsunami Relief
Last week, I wrote about the
fantabulous scone cafe
we like to visit. Now there's one more reason they're fantabulous. When I stopped in for a mocha this afternoon, I noticed they were doing a Tsunami Relief spaghetti dinner. For a suggested donation of $10 per dinner, you got spaghetti with sauce (carnivore or vegetarian - your choice), caesar salad, and garlic bread, with all proceeds going to
Mercy Corps' Tsunami Relief Fund
.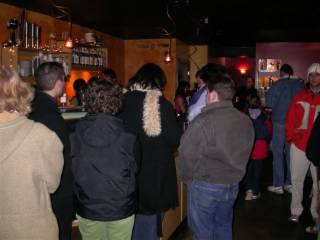 Inside

The whole staff turned out to help - and from the line out the door, so did most of the neighborhood. It's a small place - and it was packed! A young violinist was playing outside for donations (it was cold and she was inside warming up when I came back to take the pictures). If you look at the windows, you'll notice slips of paper hanging just above the candles. Each piece of paper listed a country and the number of estimated dead from that country.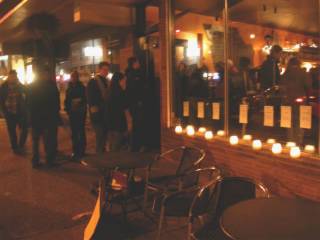 Door

They even had a
bouncer
host to greet people as they arrived and entertain them as they waited. Notice his snazzy, hand-tailored outfit.
Bouncer

Bouncer2

When I look at this now, I see the photos just don't do the jacket justice. "Mr. Mark" had either sewn or hot-glued sequin trim onto this thrift-store beauty.
At any rate - if anyone in your neighborhood is doing something like this, I encourage you to contribute. It was pretty cool to see almost all of my neighbors turn up in one place on a Wednesday night, checkbooks in hand.
If YOU happen to own a groovy little coffee shop/bistro/bakery, I encourage you to stage something like this.